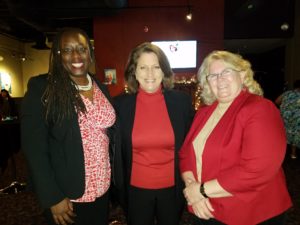 What a Year! We Closed Out 2017 with the Women in America TODAY Panel/Networking event – Produced by Renee Warmack, at Stageworks Theatre
(Pictured: Melba Pearson, Deputy Dir., ACLU of FL; Renee Warmack, Producer, Renee Warmack Productions, LLC; and Diane Egner, Founder, 83degrees)
Wow! It's been an exciting year!
Thank you for all of the amazing support you have given me as I help others Claim their Power… for Good! I'm honored to have these wonderful testimonials:
http://reneewarmackproductions.com/testimonials/
In 2018, I'll continue my Women EmPOWerment Series events with four meaningful topics:
1) Survivors/Thrivers;
2) Arts/Multimedia Stars
3) Diversity/Intersectionality Discussion; and
4) Entrepreneurial Experts.
…And premiering my next documentary about a mom and family who raised an amazing son, Sam Piazza, (his story is here: http://www.tbo.com/…/homecoming-title-is-students-crowning-…).
Sam is an accomplished young man with Down Syndrome, who earned a black belt in karate, was voted Homecoming King at Gaither H.S., holds a full-time job and volunteers with the Best Buddies program.
I'll also be publishing my book, Against the Wall, which will showcase my coaching program, while using my personal life stories as examples.
Last, but not least, I'll continue my coaching and speaking activities!
How about YOU? What are your dreams and goals? Do you need support to begin CLAIMING YOUR POWER?
Reach out and let me know if you need help getting 2018 off to a POWerful start!
Contact me here: http://reneewarmackproductions.com/contact/